Team Rynkeby cycling club
International Bike Camp - Mallorca
06 – 21. may – 2023
From 609€ per week
Do you want to go on an unforgettable cycling holiday with Team Rynkeby riders from all over Europe?
On our international cycling holiday to Mallorca, you will get a unique opportunity to learn many new techniques and get a feeling of what it is like, to ride several days in a row.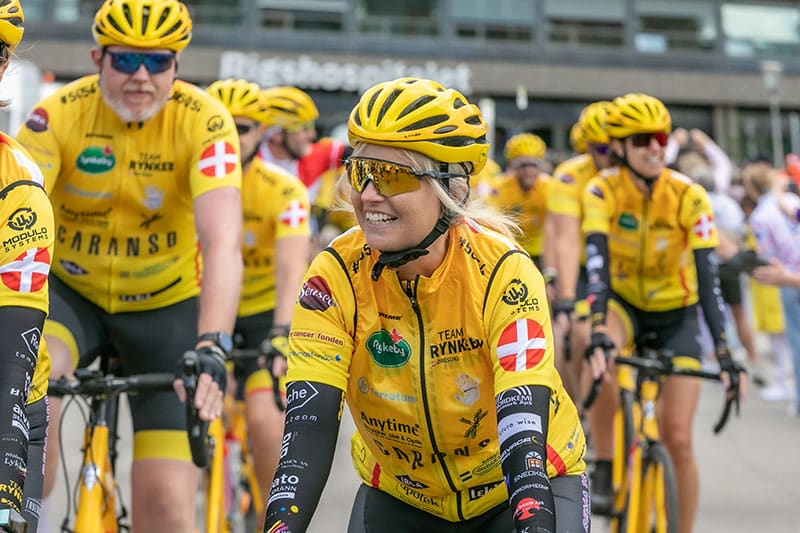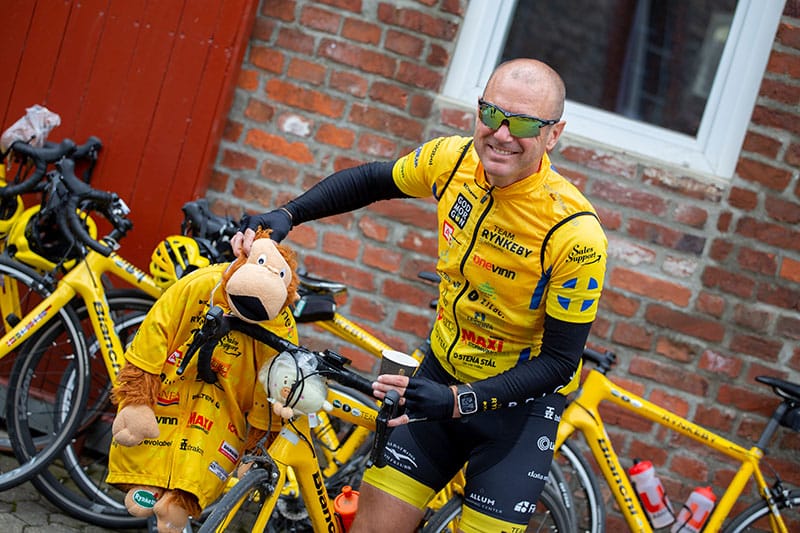 4 * Hotel - with All Inclusive

Service car to help on the route each day

Guides to manage the route each day

Locked and secured room for bike storage

Tips and tricks enabling you to become a stronger rider
Plane tickets and transfers are not included in the price.
The hotel you will be staying at is called BQ Belvedere. A big 4-star hotel, completely renovated in 2020.
There is a free shuttlebus every hour to Palma Nova Beach.
If you want a day without riding, there is only 7 km to Palma city centre. The local bus stops right in front of  the hotel.
All inclusive

07.30 AM to 23.00 PM

The hotel is all-inclusive, Food and drinks are free.

SNACK SERVICE

After the daily ride, you can use the hotel's snack service, where they serve burgers, pasta, sandwiches and much more, all of which are free of charge.

Bike storage with video surveillance

The hotel has a big, locked bicycle storage with video surveillance where you can hang your bike safely. It's not allowed to bring your bike to your hotel room.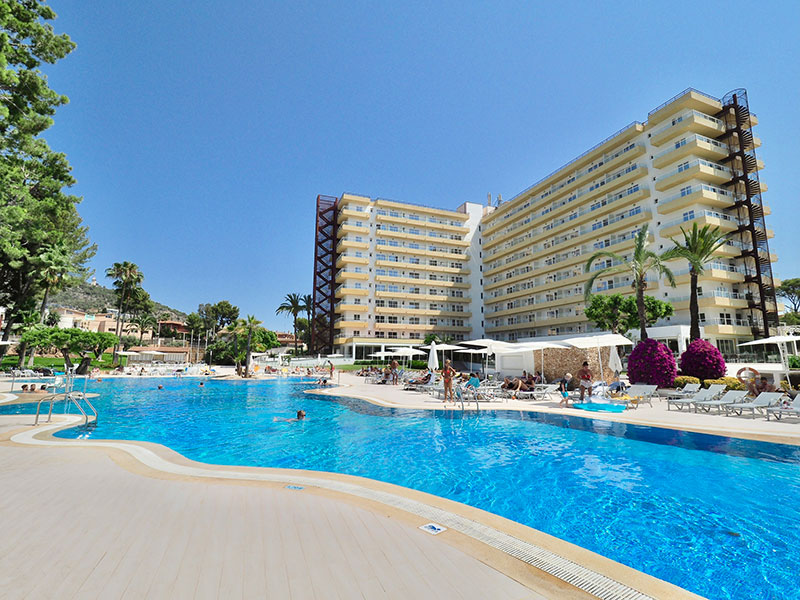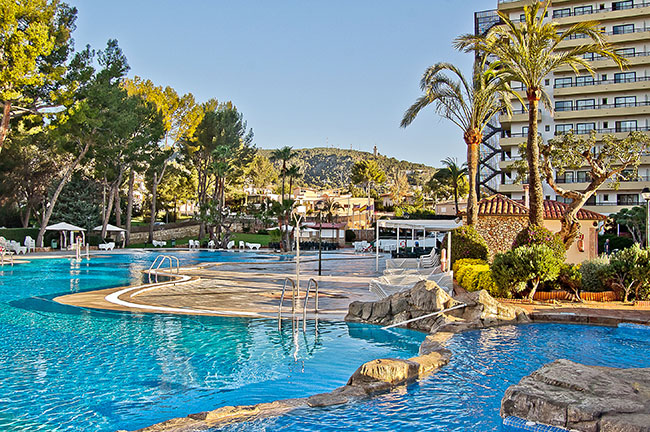 The price below is for a shared double room, You have the opportunity to book a room with a balcony, a room with a pool view or a room with a sea view. 
You can book all rooms mentioned here as a double or single room with a surcharge. Only one person is allowed to stay in a double room if it is booked as a single room.
Only a limited number of single rooms are available. The room has a balcony and an unspecified location in the hotel.
In the sign-up form, all room types are available for booking.
Shared double room (2 ppl)
All-inclusive is included in all bookings. You can book one week from 609 EUR.
Room with a balcony (no view)

87 EUR per day (609 EUR for a week)

Room with a balcony (Pool view)

94 EUR per day (658 EUR for a week)

Room with a balcony (Ocean view)

101 EUR per day (707 EUR for a week)
All-inclusive is included in all bookings.
Single room with a balcony no view (small room)

113 EUR per day (791 EUR for a week)

Double as a single room no view (1 person)

From 127 EUR per day (from 889 EUR for a week)

Double as a single room with balcony - Pool view (1 person)

134 EUR per day (938 EUR for a week)

Double as a single room with balcony - ocean view (1 person)

141 EUR per day (987 EUR for a week)
Once you have completed your booking in the form below, you will receive an automatic booking confirmation email.
Afterwards, you will receive an invoice with the full amount and a link to credit card payment.
About 2 months before departure, you will receive an email with important information about the trip.
Belvedere hotel
C/Mitja lluna,4. San Agustín,
07015-Palma de Mallorca.
Espana.
Tel. (+34) 971 401 411
The international airport of Palma de Mallorca is only 9 km west from the city centre of Palma and around 15 km away from the hotel, which is located in San Agustin, between Cala Mayor and Genôva.
It's easy to get from the airport to the hotel. It's around  20 min drive, depending on the time of day, you arrive.
Taxi: you can always take a taxi from the airport to the hotel, it is around 30 EUR.
Flight booking
When it is time to book your flight to Mallorca, you can check the different prices on Momondo »
All the carbon bikes we offer, have the right gearing for climbing hills and they all have a Shimano Ultegra gear group.
The bikes are handed out Saturday afternoon or Sunday morning

The bikes need to be returned no later than Saturday 3.00 pm the following week

All bike sizes cannot be guaranteed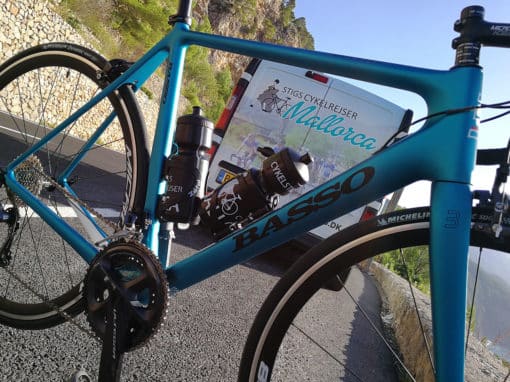 Prices for renting a bike
Conditions for bike hire with insurance:
We recommend that you have an insurance while renting a bike. The price for a week (7 days of loan) is €20. (from Sunday morning – saturday evening).
Any and all normal damage on the bike is covered 100% in the period of rental. e.g. wheels, saddle, brakes and crank set.

Any damage applied to the body or fork, is also covered 100%. Reckless behavior and treatment toward the bike is not covered. e.g. throwing, tossing and irresponsible parking etc. Therefore paint damage will not be covered.
You have to treat the equipment, as if it was your own. Theft of bikes and loose parts will not be covered (e.g. saddle pouch and GPS), although your own insurance might cover this, however in that case, there must be a police report.
Theft of the bike will be charged and you will receive the original invoice. We do not invoice labor related to repair of damage. If insurance is not taken out with us: you should choose not to purchase insurance from Stig's Cykelrejser, we will replace damaged parts, and you will receive an invoice from our mechanic.
We recommend you check in with your insurance company, to know what they cover for you personally, and for bike rental.
Want to be a guide in Mallorca?
Do you have a little dream of being a cycling guide on Mallorca? Now is your chance to realize that dream. We are looking for helpers to be guides on our cycling-trips. Your task will be to ensure a safe and calm ride and at the same time being a guide. We will prepare a detailed description of the routes and we will take care of sending you GPS-files well before your departure to Mallorca. Every night we bring together the guides for a meeting, where we discuss the next day's ride.
For your and every other participant's safety, we have a servicecar on the route, to assist in case of emergency or bicycle-failure.
As a thank you for your service, we offer you a €200 discount per week, as a guide. If you want to be a part of our team, send us an email to: mail@cykelstig.dk with "Guide Rynkeby" as the subject title, and we will get back to you as soon as possible.
"*" indicates required fields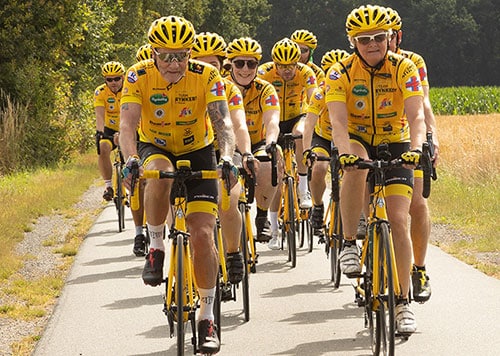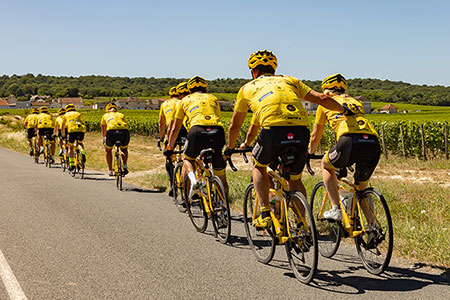 Teams are divided in levels
We offer several levels where you will be challenged. You might be interested in a long bike day with many height meters or a shorter ride at a slower pace. We offer it all You can safely sign up and benefit from the safe environment that is available on our tours.
Service car
On all our rides with guides, there will be a service car with water and tools for the ride. The service car also helps in the event of accidents and breakdowns of the bicycle. The service car is your security, for a great cycling experience.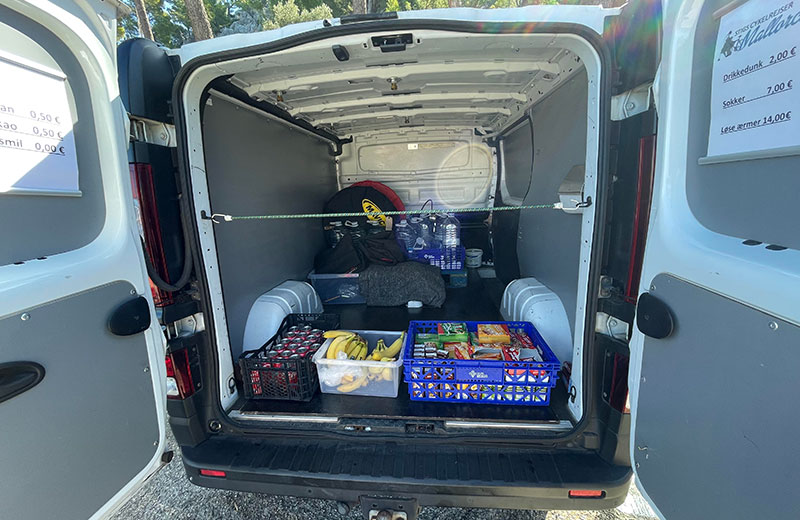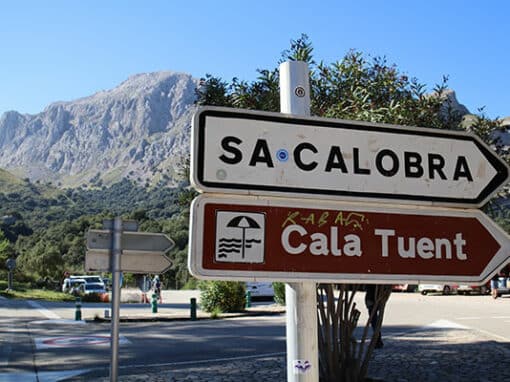 ROUTES
On our cycling week we will pass Sa Calobra, Puig Major and the beautiful northern coastline of Mallorca. You decide which team and ride you want to participate in. You can easily change level from day to day. We have daily cycling routes for the rider with no experience and for the one with a long cycling history, so whether you want to ride 65 km or + 100 km, it's possible.
"*" indicates required fields
Book your Bike Trip with Team Rynkeby